Happy 5th of July!
Why should we only celebrate our freedom on the 4th? :)

Actually, I'm just going to post this on the 5th because on the late eve of the 4th, I'm tired and need to go to bed. It's been a long few weeks and so busy busy full. Good and bad but full nonetheless... I hope to be posting regularly again as I have a lot of things to blog about! Thanks of being patient with me, blog stalkers!

Here is a shot of our crew the night of the 4th...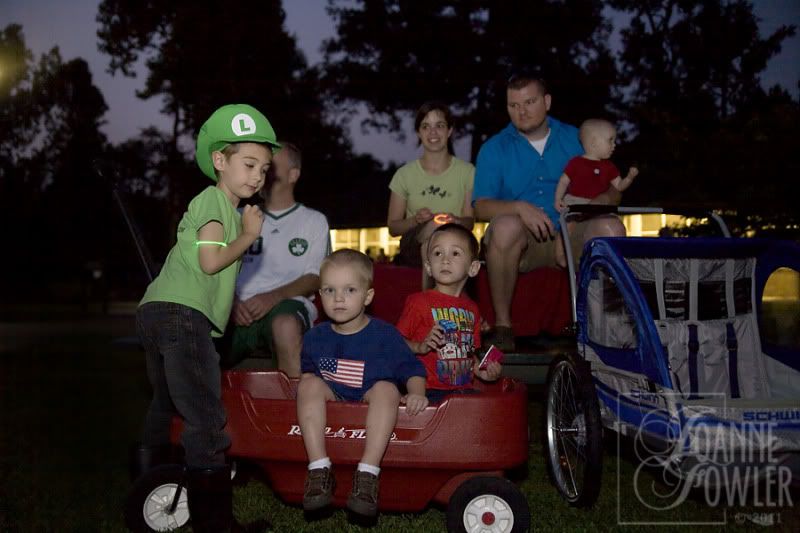 Tip:
* If you want to take pics of people when it's practically pitch black out, remember that your flash batteries are empty from the wedding you shot over the weekend and you should have brought some fresh ones along. Otherwise you have to chance it with a super slow shutter speed and some crazy wicked photoshopping skills.

We took a little walk down the street to the park where we met up with some friends to watch the Country Club's firework show. It was fun and I actually brought my camera this year. I don't know that I've ever attempted to photograph fireworks.

Tips:
*Bring a tripod.
*Don't sit on a rickety picnic table with a dad bouncing his baby son.
*Don't sit near wiggly kids.
*Don't try to get alone by sitting in the wagon, it only lasts for 2 seconds.
*Don't giggle at how cute three year old is when he says "ooh, ahh, wow!"

Following this advice will allow you to get some perfectly executed shots of beautiful fireworks. Not taking heed to these tips will get you this: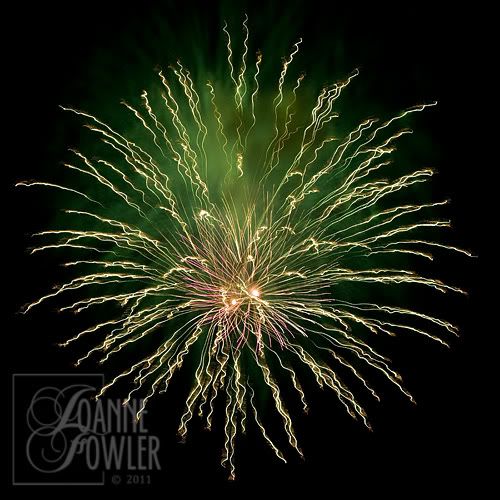 Which are still kind of cool in their own way. So if you like this then ignore all the tips posted above. :)

So as not to bore you with a continual stream of firework images, here is a random slideshow of the good, the bad, and the freaky:
Fourth of July: 2011