IN Shootout: Let's Get Together...
(anyone singing that song from the original Parent Trap yet?)

I had the opportunity to meet with some fabulous photographers from all over the midwest at an intimate get together in Indiana last weekend. Not only did we have a blast getting to know each other, we were able to share valuable information and I walked away with some great new ideas. The one thing I didn't really do was shoot. How odd is that, right? Due to the weather, we stayed in the studio and with so many shooting, it got a bit crowded at times so I just let others shoot while I watched and chatted with everyone, soaking in all I could.

Here is one group shot from the weekend. The amazing Jessica Bell brought her son along to model and he came in handy when we wanted a group shot! Jess and I work together on weddings and if you are looking for a great photographer in the Jasper, IN area, call her!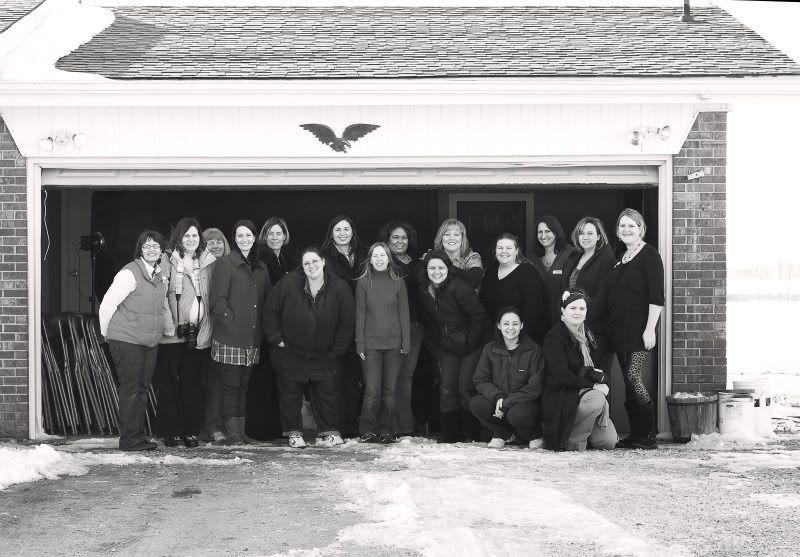 I'm one of the squatters (lol), the one on the left, next to the fabulous Emily Southerland, one of the speakers. Check out her work and look her up if you are in the St. Louis, MO area.

Another uber talented photographer snagged a couple shots of my littlest monkey and she posted a peek on her blog HERE. Jennifer Dexter is located in Lafayette, IN and surrounding counties if you are looking for an awesome photographer in that area.

Thanks so much to our wonderful Host, Jeannette Kaufman. If you are in the Terre Haute, IN area, give her a call to photograph your family!

I said I didn't really shoot that weekend but I meant at the workshop. I did shoot some of a few rowdy kids at the hotel. Jess and I drove up together with two kids each and we were all a little stir crazy after hours in the car together. We piled into the hotel room and then let them get some of their pent up energy out. They were so hilariously crazy we did what any good mom would do... took pictures:

Jeremiah getting some great height...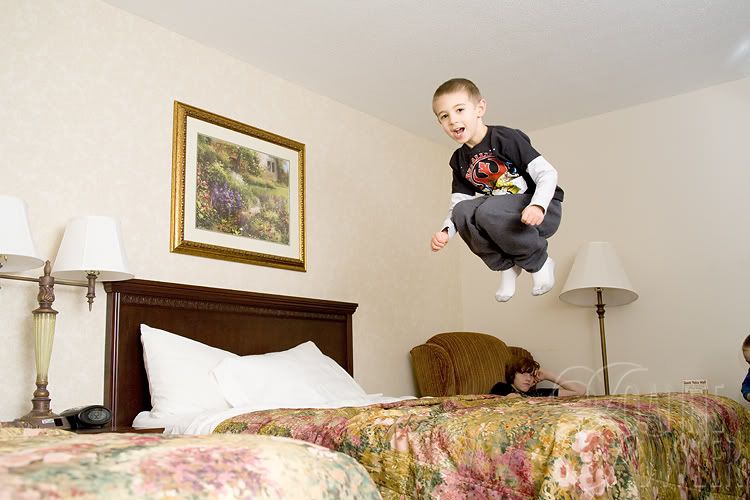 Lots of giggles as they raced from bed to bed...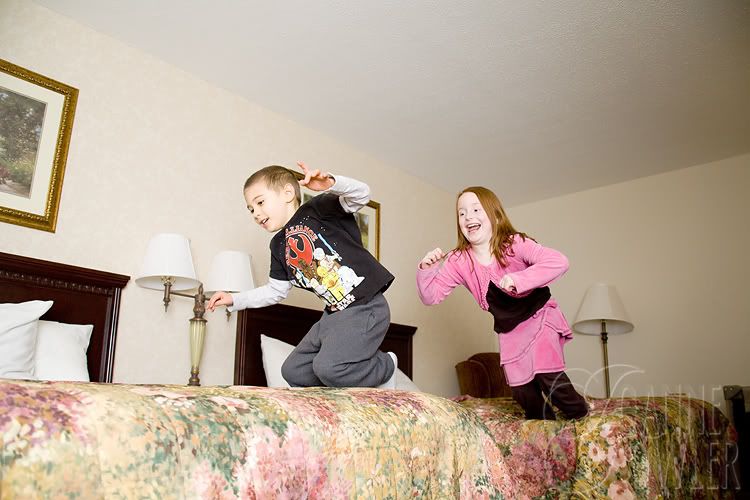 We dubbed Miss K the Violent Jumper...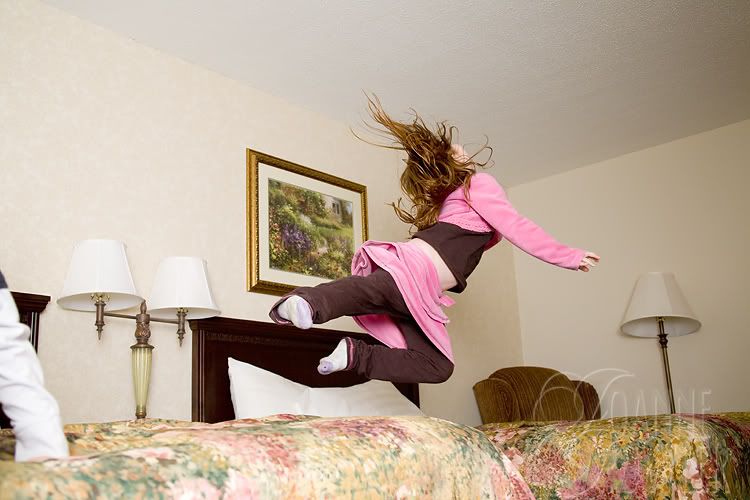 Joshua never likes to be left out of anything...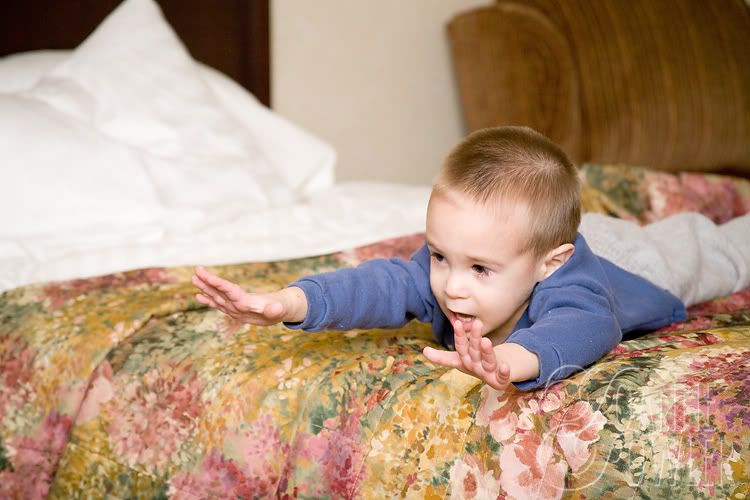 So D gave him a hand...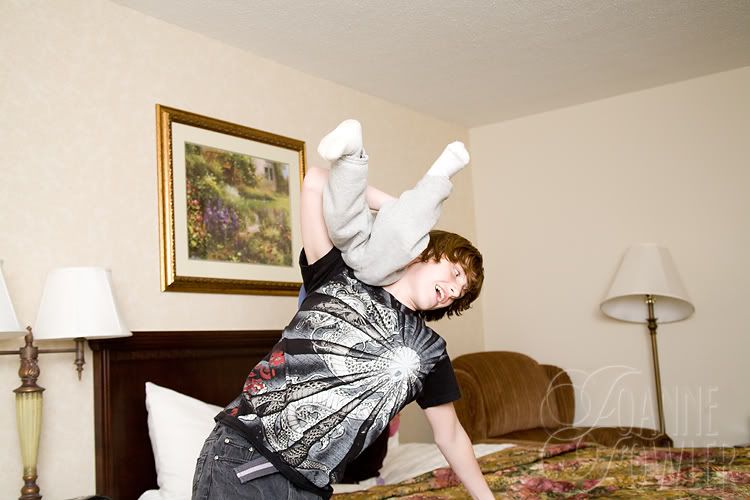 Then he got into the action with a few tricks of his own...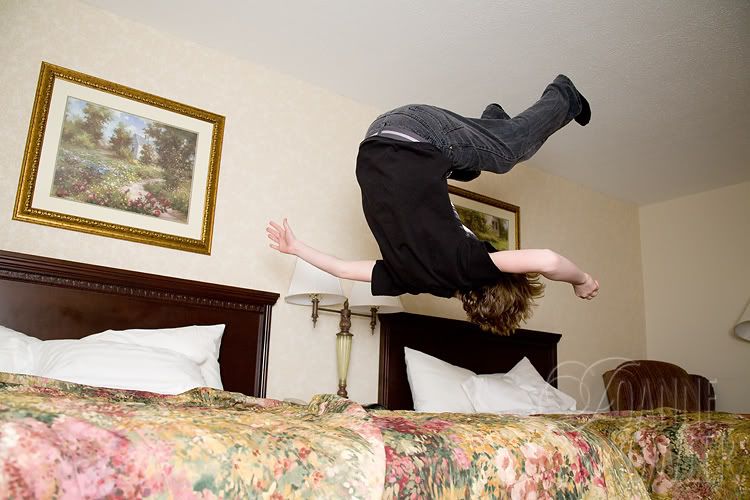 You can catch another perspective here on Jess's Blog: CLICK HERE!


AND NOW...
(drumroll)

The much anticipated recipe to the infamous dessert that is oh-so bad and yet OH-so yummerific (yes, it's a word. I just made it up so write it into your dictionaries). I called it a chocolate chip cheesecake because that is a good description but that isn't really the offical name of this recipe. I love this treat but it's so rich and SO tempting that I try to reserve making it only for large gatherings so I have no leftovers to consume when I get back home!

MOCHA MACAROON TORTE

Crust and Filling:
1 (18oz) pkg Refrigerated Chocolate Chip Cookie Dough
1 (8oz) pkg Cream Cheese, softened
1 egg
1/2 cup coconut
1/4 cup sugar
2 tbsp brewed coffee (optional)
1 tsp vanilla
1/3 cup Semi-sweet chocolate chips

Topping:
1/4 sugar
1/4 cup chopped pecans
1 cup Semisweet chocolate chips

Heat oven to 350 degrees. Press cookie dough into bottom of ungreased 9 or 10 inch springform pan. Bake 12-18 minutes or until light golden brown (will not be baked completely). Remove the partially baked crust and let cool for 10 minutes.

While cooling, beat the cream cheese until light and fluffy. Add egg and beat until smooth. Add coconut, 1/4 cup sugar, coffee, and vanilla; blend well. Stir in chocolate chips. Spoon and carefully spread mixture over crust. Sprinkle with all topping ingredients.

Return to oven and bake an additional 40-45 minutes - until filling is set and edges are light golden brown. Cool 10 minutes before running knife around edges to loosen. Carefully remove from pan and cool 1 hour. Then refrigerate 1-2 hours or until chilled. Store in refrigerator and try to not eat too much at one time. :)