Mmm...
Totally not flattering food pics but WOW are these yummy!

It's a Pampered Chef recipe I found way before I had kids and it's still one of my favorite recipes ever. Seriously, it's so yummy, I'm amazed it comes out of my kitchen!




These are called Tuxedo Brownies. They are really white chocolate raspberry brownies!!!

Super easy to make!

Prepare brownies as directed from your favorite box mix. Bake. Cool.
Spread seedless raspberry jam over cooled brownies.
You can add some fresh raspberries here, just take a handful or so and toss them about atop the raspberry jam. :)

Next you need the following:
2 squares white chocolate for baking
2 tbsp milk
8 oz cream cheese, softened
1/4 cup powdered sugar
1 cup thawed, frozen whipped topping

Combine white chocolate and milk in large microwave-safe bowl; microwave on HIGH 1 minute. Stir until smooth; cool slightly. In large mixing bowl, combine cream cheese and sugar; mix well. Gradually stir in white chocolate mixture until smooth. Fold in whipped topping.

Spread this over the raspberry jam/raspberries. Refrigerate for about an hour. You can also garnish with fresh raspberries.

IT.IS.AWESOME.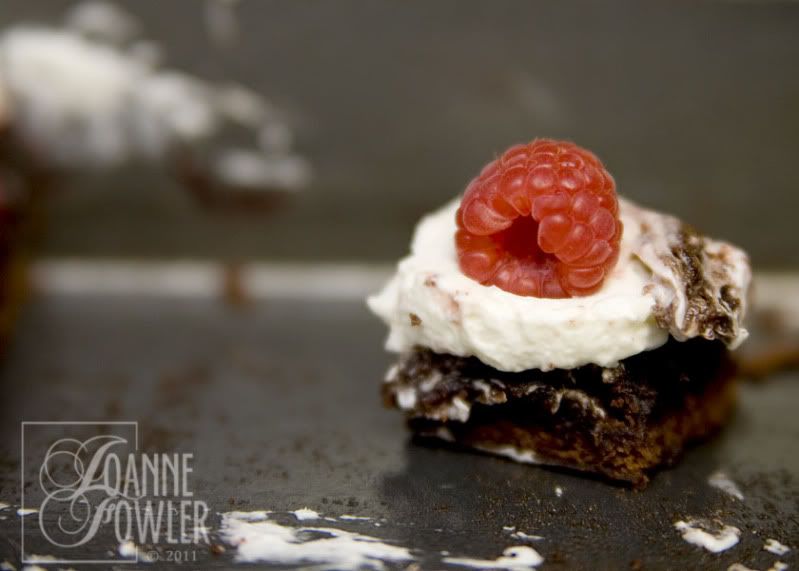 I probably could have taken better pics but we really wanted to eat them instead! And we munched on the fresh raspberries and didn't have enough to garnish each slice, haha!

Bon Appétit!