This House on Thursday: Coin Critters, Spinning Sentences and Lego Math...
Saw this on a teacher's blog a while back and thought it was super cute! I try to keep practicing money stuff with Jey because he seems so uninterested I'm afraid it'll slip right out of his head (as it sometimes does!). I knew he's like this since it involved drawing..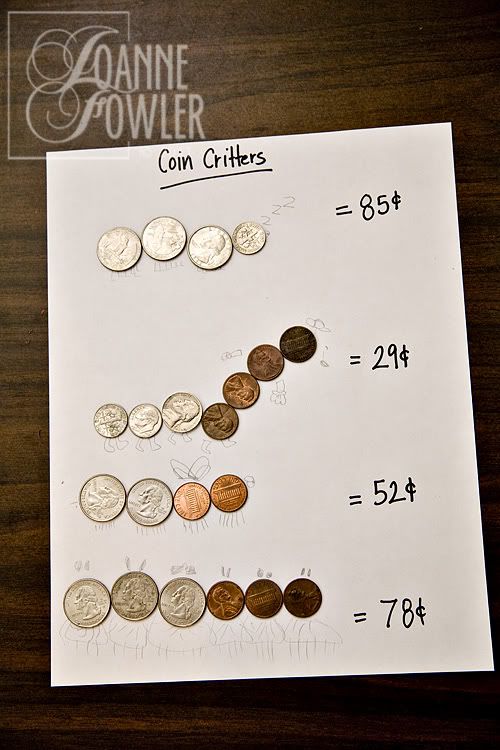 I wrote some random numbers in the side and he had to find the coins to add up to the amount. Then he had to turn the line of coins into a critter. He thought it was hilarious and was eager to make some interesting creatures. Seriously, if I can turn every lesson into an art project, he'll be the happiest camper! So you know we are doing lots of crafts and drawing around here every day!

I found this next idea here: Lory's Page. Free Printable! I printed it out then realized I could alter it so I pulled it up in Photoshop (where I'm so comfy! haha) and erased the words. Then I printed the new blank page and put contact paper over it so I can write in my own words and change them out as often as I like. Laminating would work as well but I had contact paper and no laminator the evening I prepared this. I can write in ink or sharpie if dry erase markers wipe off too easily. Did you know that an eraser will erase sharpie from smooth surfaces like dry erase boards? Or you can go over it with a dry erase marker and it'll start to come up. :) Or you can probably put it in a gallon baggie and use that as the plastic, reusable surface. The spinners I made from a piece of paper and split pin so you can probably thread that through the plastic from the baggie and it'll hold it in place for continued use.
This is called Spin-A-Sentence...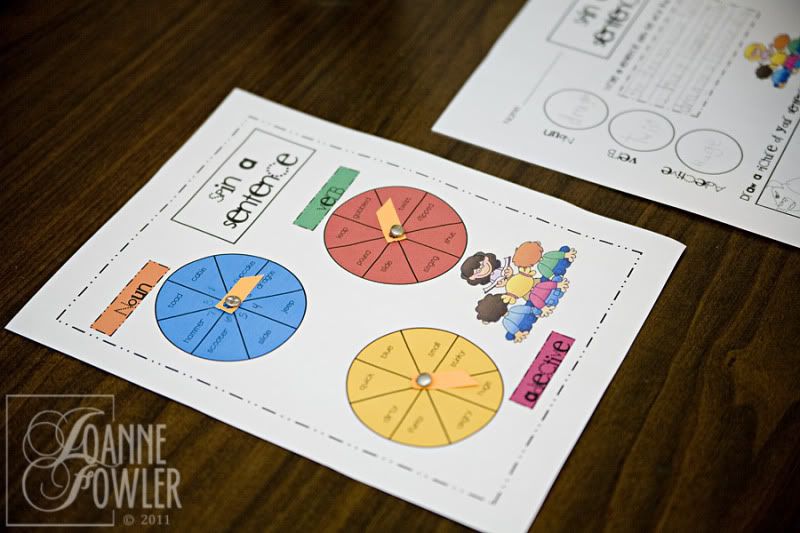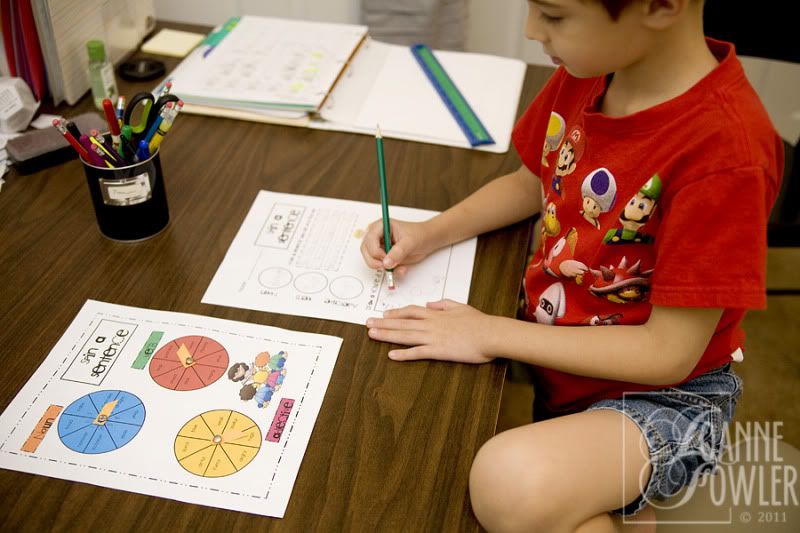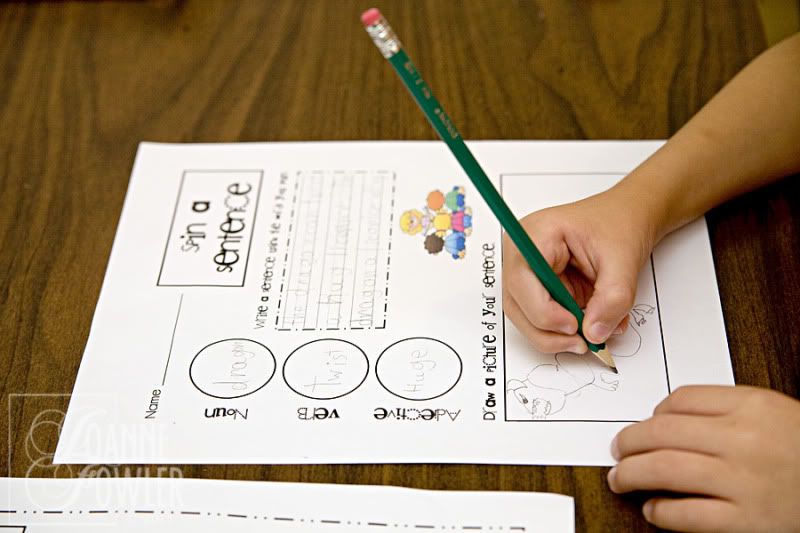 Language arts is not Jey's strongest but this was entertaining enough to keep his interest. Well, that and it also involved drawing. lol He spins to get his three words: noun, verb and adjective. Then he has to come up with a sentence using the three words. The reward for Jey is that there is a box at the bottom of the page for him to draw a picture of his sentence. This is how Jey expressed himself more comfortably so it is a treat (relief?) for him to get to draw what's on his mind as well as writing it out. The tricky part for me is to get him to restrain himself long enough to write the sentence out before he starts to draw. It is such a temptation for him -all that empty space! :)
Lastly, another favorite around here: Legos!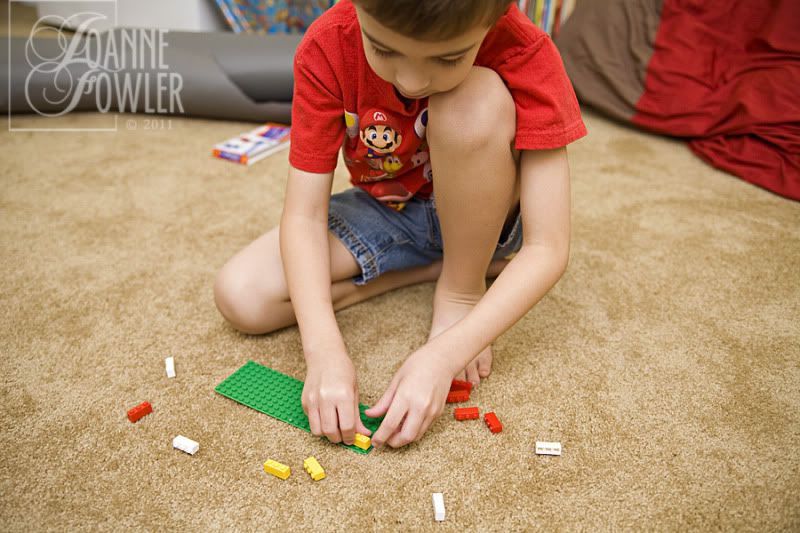 It dawned on me to use his beloved Legos for skip counting! These were taken a while back when we were doing 3's...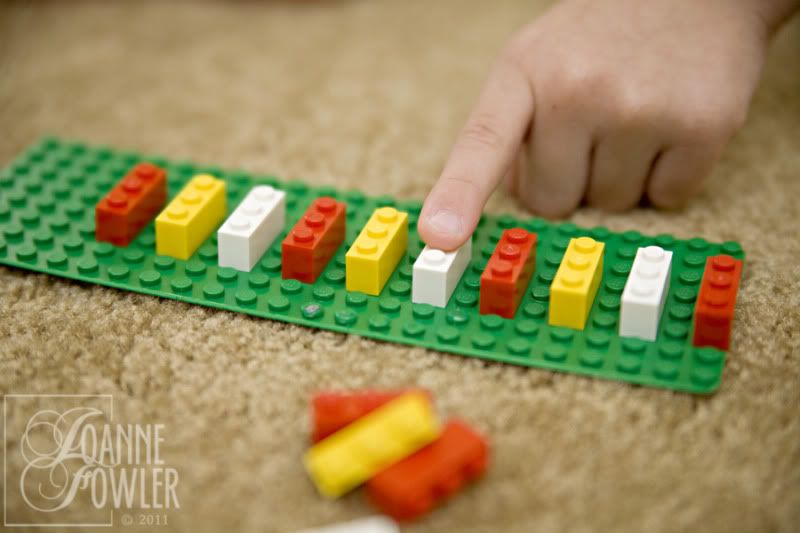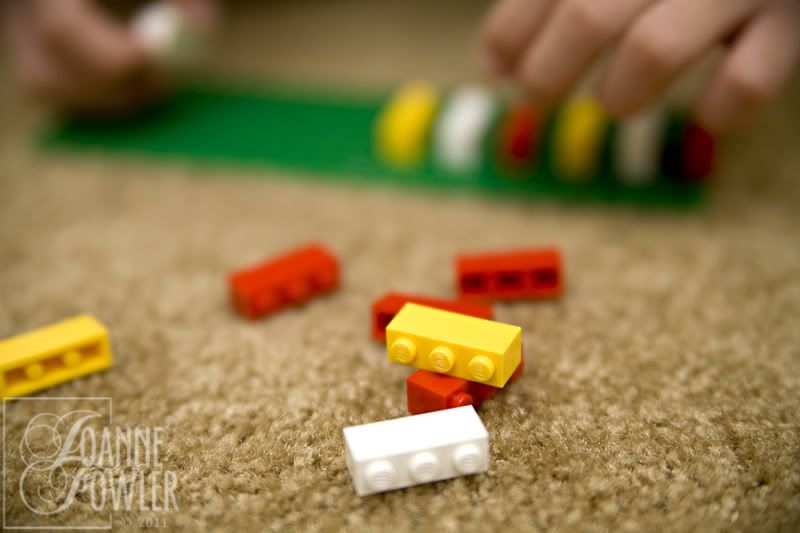 I love that Legos come in more shapes and size options than when I was a kid! He's memorizing them much faster this way than trying to remember a song. Today we reviewed 4's and I showed him a multiplication chart and his eyes lit up as he made the connection. I was surprised since multiplication isn't on the radar for another year or two as far as scope and sequence charts. I know I didn't learn them until at least 4th grade but I'm sure they've moved it up since then. Anyway, I was kind of thrilled but then math just clicks with this kid so why am I so surprised? Today I would take a few and toss them at him and he'd have to race to tell me how many "bumps" there were altogether. Each block had four so he could multiply and come up with the answer quickly.
So proud of my boy!