Freestyle Fun-schooling!
When you homeschool, you get a lot of questions. Among the homeschool crowd, one of the first questions asked is "What curriculum do you use?" I don't really have an easy answer to that one! I researched a ton of curriculum and couldn't really decide on which one I thought would work the best. I liked certain aspects of different ones but not enough to want to pay so much for a book I'd only use a fraction of. So I started researching "What your child should know" lists for his grade level (scope and sequence charts). I found some great sites for educators with some very detailed lists. I also looked at several curriculum that lined out what your child should learn each grade. I combined several reputable lists and I design my own curriculum. This master list lines out my objectives for the year and it gives me a starting place to find resources and activities to teach each thing. Some people call it "Unschooling" because it's not traditional but I don't think that is really it. I am pretty traditional in that we actually do the pledge and sit down to work on worksheets and such. Shoot, we even have a traffic light behavior chart! lol

Basically, I look through my lists and lesson plan week by week. I prefer to do week by week because some things Jey learns quickly and we can move on while other things are a bit more challenging and we need to stay there for a little longer. This way I can be flexible and he can learn what he needs before moving on to more challenging things. And if for some reason we didn't get to something, we can just add it to the next day/week without disrupting my long term lesson plans.

Anyway, I prefer to think of my style of homeschooling as "Freestyle Homeschooling." I scour the internet for ideas and get creative! Learning can be so fun! There are a ton of ideas out there to teach whatever learning style you have and thankfully, there are a ton of free or really cheap ideas to do some fun things with your schooling. One day I might post some links if you are interested. I am also SO THANKFUL for friends who have passed along some of their curriculum and random books. I have a lot of reading books as well as science and math. I also find lots of things to supplement at Dollar stores and (my fave) the Target Dollar Spot. They always have little workbooks on various subjects and lots of flashcards as well. Flash cards are great when we are "carschooling" or for making up games to review information. We have purchased several books and CD Roms for our homeschool and they are great tools we use often around here.

The odd thing about KY is that homeschoolers are only required to log the number of days that we school. This is nice in that we have the freedom to choose what/how our children will learn. But then it is kind of sad to me that there might be families who claim to homeschool and then do absolutely nothing! My poor kids would probably love that! haha But no, I'm the meanie who has a huge list of things for them to learn and do each day. If I ever feel like my kids are not getting a quality education, I am not too proud to send them to a school to learn. But in the meantime, things are going great and we are having a blast! Yes, there are headaches now and then but that brings up another beauty of homschooling. If we are having "one of those days" then we can just stop for a while or for the day and switch gears while we work things out and get back to normal again. If we end up losing a day, we just tack another day on the end. I actually start a couple weeks before public schools start up so we have some days to play with as needed. Sometimes Mommy needs an Inservice Day to get renewed!

All this random talk about our Homeschool just to educate you on the title of this post. So explains why we are Freestyle FUNschoolers! Daddy is a great principal and when a student has reached the teacher's last straw, they get sent to the principal and the teacher gets a mini break to chill. And we all get hugs so it's a great situation! haha

I started taking some pictures of some of the things we do around here. I have a ton of images to go through but I'll post a few so you get an idea of school life around here at Kairos Learning Center...

Right now my office doubles as our school room. Sometimes we "do school" in other areas of the house but mostly we hang out in here.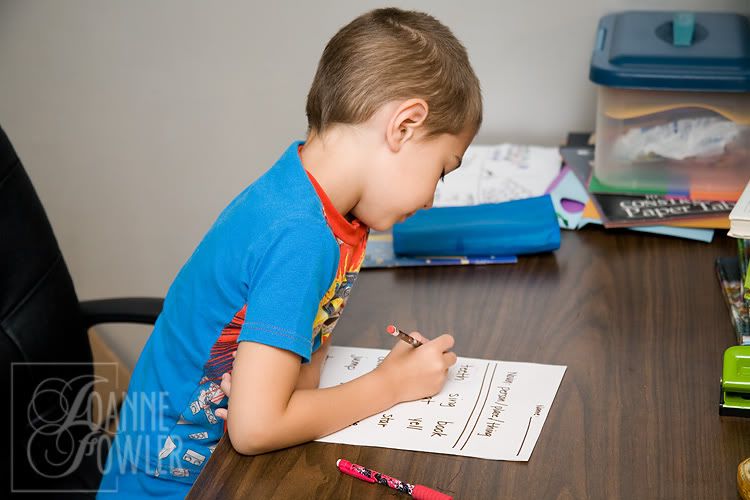 I make a lot of the worksheets for Jey. Mainly because I know exactly what I'd want on it and can't always find some that I like. Plus its almost free and there is always the exact number of worksheets we need to get enough practice on each topic!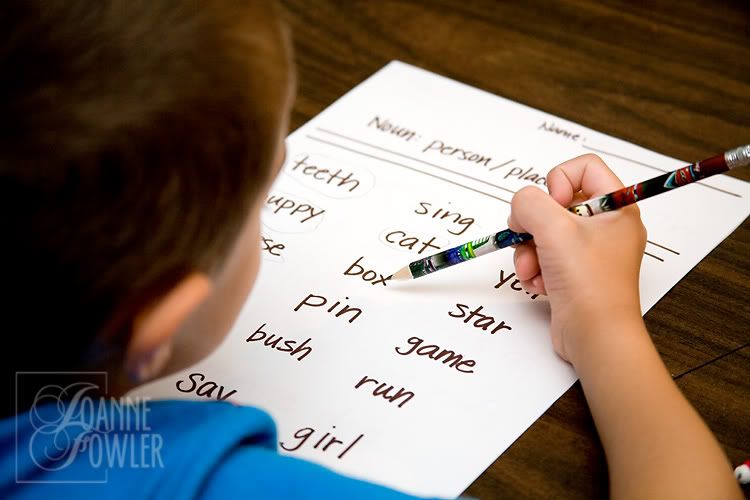 Jeremiah is not always enthusiastic about language arts so I have to keep him interested by incorporating other things he likes. Having him write his spelling words on the dry erase board feels like drawing so he is much more cooperative about it...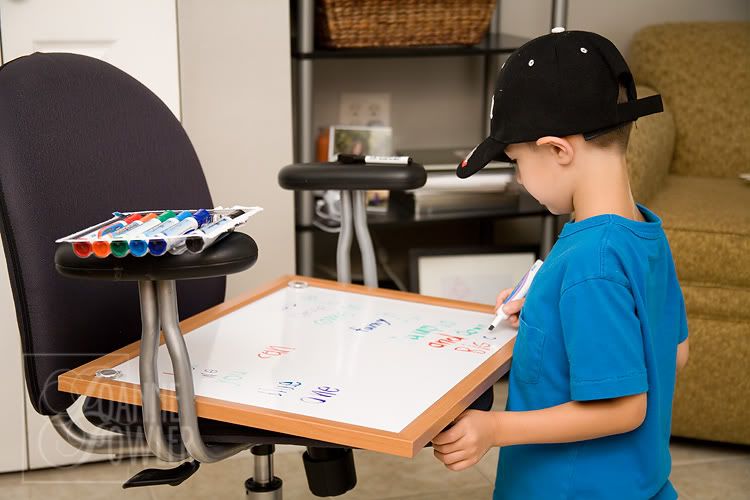 Besides, what kid doesn't love to draw on the board? And all the colors! Fun stuff here!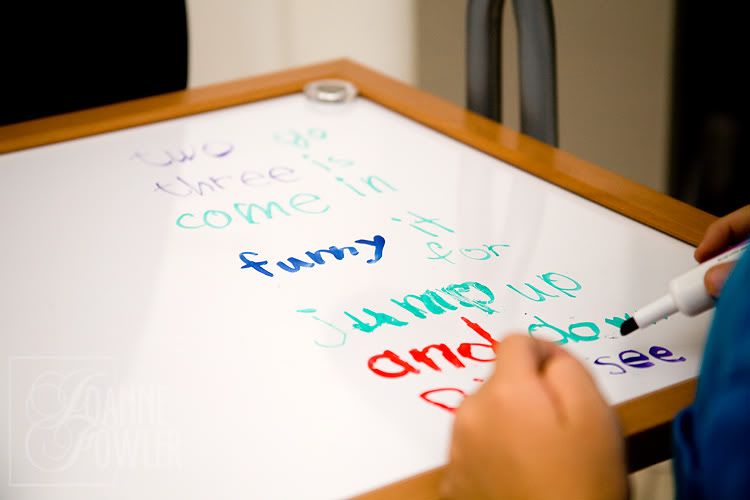 My biggest obstacle is keeping Joshua entertained during school. Suddenly toys are boring and he usually ends up finding stuff to get into...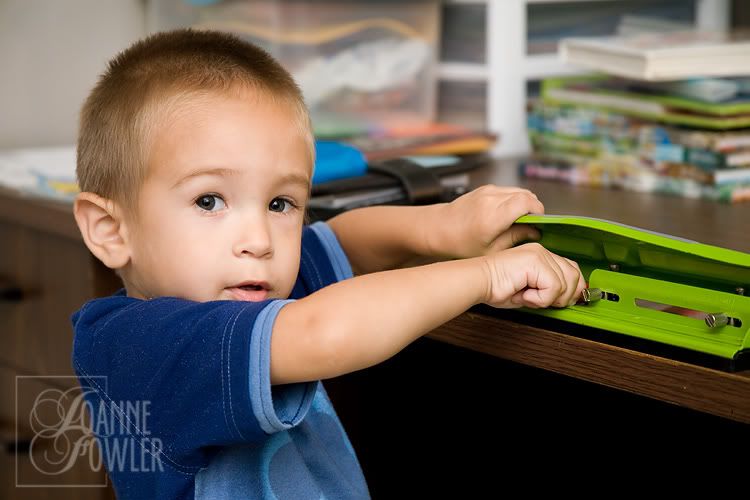 There are lots of things I let him do that keep him semi-busy but I always have something to clean up or put back together when we are done. I don't like that part! lol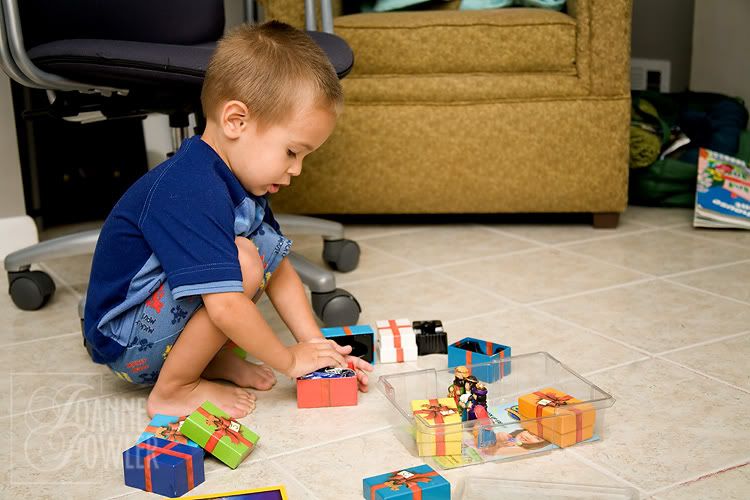 Any ideas of keeping a busy toddler busy during Jey's school time?

I do involve him whenever I can (mostly to keep him from making a mess to be quite honest!). Like having Jey read to him. Joshua likes to do whatever Jeremiah is doing. At least he tries...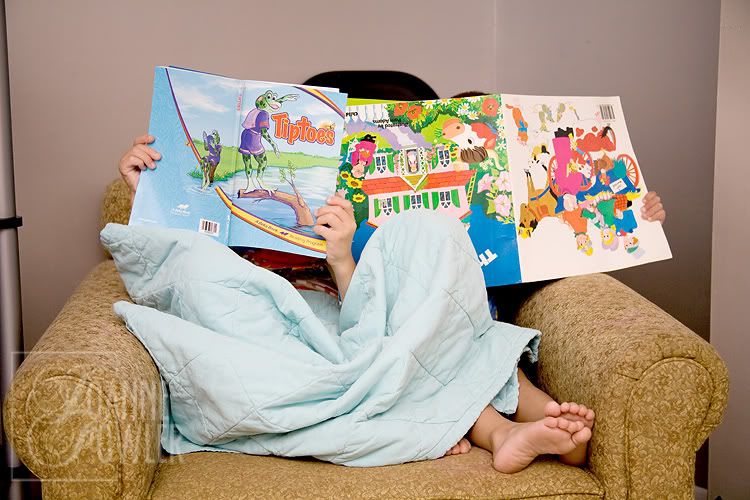 (couldn't resist this one!)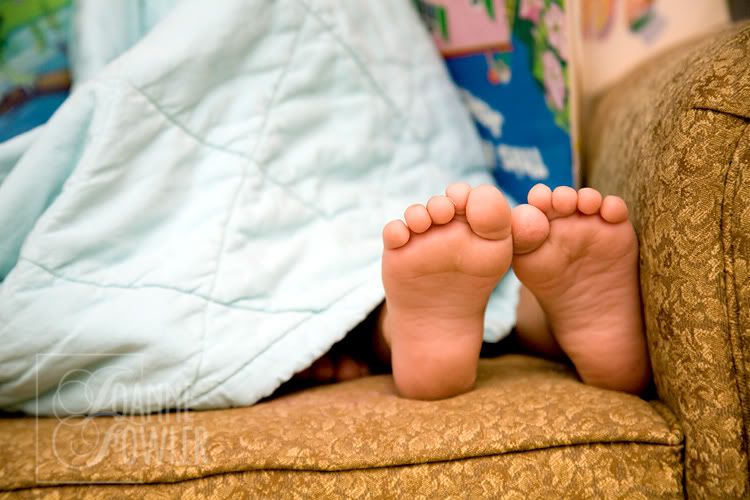 I know these pics aren't very exciting. I have a ton more so I'll post periodically about our homeschool life so stay tuned! :)